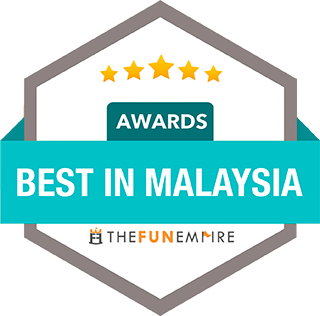 It's deliberate. You've thought this through; a craving that needs to be met, a thirst to be quenched, or perhaps a memory waiting to be shaped.
We are a space; where food and conversations take centre stage. Finish a book, savour time, lounge away.
We invite you to take five with us.
All-Day Brunch
Weekends Only
Potato pancake, poached eggs with hollandaise, sun-dried tomatoes, beans, feta cheese, beef bacon bits

27.9

Toasted sourdough, sauteed shrooms, soft scrambled eggs, smoked baked beans, cherry tomato, maple-glazed beef bacon

33.9

Steamed buns with soft-shell crab, curry aioli, purple slaw

28.9

Coconut-infused buttermilk pancakes, poached pear, berry compote, banana, maple syrup

25.9

Specialty Toasts

Sea Salt Kaya

Toasted sourdough with sea salt kaya schmear

10.9
Mains
Mixed greens, grilled chicken, pomegranate, balsamic vinaigrette

15.9

Creamy mixed shrooms, poached egg, herbs, toasted sourdough

25.9

Garlic, chilli padi

19.9

+ Squid

5

+ Clams

5

+ Prawns

5

+ Beef Bacon

5

Teriyaki glazed salmon, potato croquette, medley of greens, house honey mustard sauce

30.9

Crispy fried chicken, sunny side-up, maple chilli, crushed peanuts

31.9

Home-ground Australian beef, pickled tomatoes, parmesan

27.9

Cornflake crusted toast, cheddar, mozzarella, mixed greens

25.9

100% Australian beef, caramelised onions, American cheese, cajun fries

30.9

Fried chicken, hot mustard, purple slaw, herb chilli, cubed watermelon, waffle fries

29.9

Slow-cooked pulled beef, house sauce, waffle fries

31.9

Special

Fried chicken, prawn crackers, fried egg, house sambal kecap

27.9

Ikan Bilis

Spiced chicken sate, prawn crackers, fried egg, house sambal kecap

21.9

Chicken

Butterfly pea flower rice, fried chicken, nyonya acar, hard-boiled egg, sweet sambal

25.9

Spiced Rendang

Butterfly pea flower rice, hard-boiled egg, slow-cooked pulled beef, nyonya acar, sweet sambal

30.9

Egg noodles, sauteed prawns, squid, fishcake, poached egg

21.9

House curry broth, sweet corn, green onions, ajitsuke tamago, shiitake, sesame, honey tofu

23.9

Roti canai, spicy tamarind soft-shell crab

24.9

Pappardelle / Spaghetti / Penne

Pasta, clams, sauteed prawns, spicy laksa gravy

27.9

Meatballs 'n' Hash

House aussie beef balls, mango salsa, mushroom gravy, hash

22.9

Grill'd Chick Croissant

24hr-marinated grilled chicken, house pickled onions, nyonya acar, sunny side up

21.9

Classic Omelette Croissant

2 eggs, beef bacon, coral green, mixed capsicum, curry gravy

18.9
Small plates
Chicken / Beef

with rice cubes and house-made peanut dip

14.9

with pickle aioli dip

17.9

with house-made buffalo glaze

17.9

Indonesian Prawn Crackers

with herb chilli dip

8.9

Seasalt

10.9

Cajun

13.9

Truffle

16.9

Toasted sourdough with sea salt kaya schmear. Served with a cup of hot white.

13.9

Pesto Baked Eggs w/ Garlic Toast

Cheesy baked pesto eggs, house garlic schmear, sourdough

12.9
Sweet Endings
The Original

Buttermilk waffles with butter and maple syrup

13.9

Banana, nutella, shaved cheddar, chocolate gravy, crushed peanuts

17.9

Crêpe, passionfruit curd, ricotta, crème fraîche, fresh blueberries

15.9

Ice Cream In A Cup

Vanilla / Chocolate / Coconut

6

Blackout Cookie w/ Ice Cream

House dark choc chip cookie, vanilla ice cream, coffee dip

15.9
Vanilla Ice Cream Served With Buttermilk Waffle
Served with our signature chocolate bark
23.9
White

Dark chocolate drizzle, honey-glazed banana, shaved almonds, seasonal fruits

Black

Uji-matcha drizzle, sea salt gula melaka, candied peanuts, seasonal fruits
Cakes & Bakes
Kindly refer to our display at the counter.
Drinks
Coffee

Tea

Chocolate

Cold-pressed Juice

Classics

Housemade Iced Lemon Tea

13

Housemade Mint Lemonade

13

Choice of Spritzer or Tea

Yuzu Vanilla

14

Mint Mango Lime

14

Mint Lychee Lime

14

Speciality

Soda
Service charge subject to 10%
Store hours
*

We are closed on Mondays!

| Day | Opening hours | Last order |
| --- | --- | --- |
| Tue—Thu | 11am—8pm | 7.30pm |
| Fri | 2pm-8pm | 7.30pm |
| Sat—Sun | 9am-8pm | 7.30pm |
Career
Open roles
Cafe Team Lead (full-time)
Barista (full-time)
Service Crew (full-time/part-time)
Drop us an email with your resume at hello@ohmywho.com