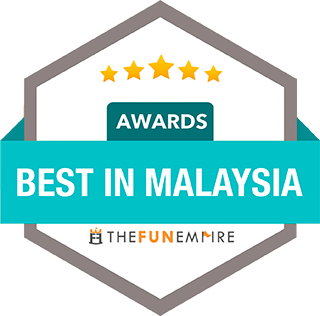 It's deliberate. You've thought this through; a craving that needs to be met, a thirst to be quenched, or perhaps a memory waiting to be shaped.
We are a space; where food and conversations take centre stage. Finish a book, savour time, lounge away.
We invite you to take five with us.
Brunch
Weekends, 10am - 2pm
Potato pancake, poached eggs with hollandaise, sun-dried tomatoes, beans, feta cheese, beef bacon bits

25.9

Toasted sourdough, sauteed shrooms, soft scrambled eggs, smoked baked beans, cherry tomato, maple-glazed beef bacon

30.9

Steamed buns with soft-shell crab, curry aioli, purple slaw

26.9

Coconut-infused buttermilk pancakes, poached pear, berry compote, banana, maple syrup

22.9

Specialty Toasts

Sea Salt Kaya

Toasted sourdough with sea salt kaya schmear

10.9
Small plates
Chicken / Beef

with rice cubes and house-made peanut dip

12.9

with pickle aioli dip

17.9

with house-made buffalo glaze

17.9

Indonesian Prawn Crackers

with herb chilli dip

8.9

Seasalt

10.9

Cajun

13.9

Truffle

16.9

Fried bao, chicken bak kwa, house pickled onions, lettuce, sambal

19.9

Toasted sourdough with sea salt kaya schmear. Served with a cup of hot white.

13.9
Sweet Endings
The Original

Buttermilk waffles with butter and maple syrup

13.9

Banana, nutella, shaved cheddar, chocolate gravy, crushed peanuts

17.9

Crêpe, passionfruit curd, ricotta, crème fraîche, fresh blueberries

15.9

Ice Cream In A Cup

Vanilla / Chocolate / Coconut

6
Vanilla Ice Cream Served With Buttermilk Waffle
Served with our signature chocolate bark
23.9
White

Dark chocolate drizzle, honey-glazed banana, shaved almonds, seasonal fruits

Black

Uji-matcha drizzle, sea salt gula melaka, candied peanuts, seasonal fruits
Cakes & Bakes
Kindly refer to our display at the counter.
Drinks
Coffee

Tea

Chocolate

Cold-pressed Juice

Classics

Housemade Iced Lemon Tea

13

Housemade Mint Lemonade

13

Choice of Spritzer or Tea

Yuzu Vanilla

14

Mint Mango Lime

14

Mint Lychee Lime

14

Speciality

Soda
Service charge subject to 10%
Store hours
*

We are closed on Mondays!

| Day | Opening hours | Last order |
| --- | --- | --- |
| Tue—Thu | 12pm—9pm | 8.30pm |
| Fri | 2pm-10pm | 9.30pm |
| Sat | 10am-10pm | 9.30pm |
| Sun | 10am-9pm | 8.30pm |